Travers Stakes - Gr. 1
08/27/2016 DRF
As he walked briskly into the post-race interview area at Saratoga, trainer Bob Baffert said: "This is better this year. Why didn't we do that last year?"
A year after making a similar walk - though with less enthusiasm - following Triple Crown winner American Pharoah's defeat in the Travers, Baffert floated on air after the previously unheralded Arrogate put on a performance for the ages, winning Saturday's Grade 1, $1.25 million Travers Stakes by a whopping 13 1/2 lengths over stablemate American Freedom. Moreover, Arrogate's final time of 1:59.36 for 1 1/4 miles was a track record, demolishing the mark of 2:00 set by General Assembly in the 1979 Travers.
"That was ridiculous," Baffert said.
The win capped a sensational hour for Arrogate's owner, Juddmonte Farms, which also won the Grade 1, $1 million Sword Dancer Invitational with Flintshire on Saturday. It was also a two-win day for Baffert, who won the Grade 1 King's Bishop with Drefong.
But Arrogate eclipsed all performances on a Breeders' Cup-type card at Saratoga, where 13 3-year-olds went into the starting gate for the 147th Travers but only one will be remembered.
Arrogate, a son of Unbridled's Song, had never run in a stakes race before Saturday. His three wins coming into this race came against a total of 10 horses. On Aug. 4, he beat two horses in an allowance race, coming from last of three.
When Arrogate drew the rail for the Travers, Baffert knew Mike Smith would have to put him into the race from the outset. Smith hustled Arrogate away from the gate but was third under the wire the first time as American Freedom and Laoban had outbroke him.
But by the time the field entered the first turn, Arrogate was in front, running an opening quarter of 23.23 seconds. The gray locomotive kept rolling at a brisk clip of 46.84 seconds for a half-mile and 1:10.85 for six furlongs while basically in hand.
"So smooth, so strong," Smith said. "He would look around a lot because he's so immature. Every time he looked too much I'd say, 'Hey,' and, man, he would jump to it."
Entering the far turn, Arrogate widened his lead and he came to the quarter pole two lengths in front after running a mile in 1:35.52, equaling the second-fastest mile fraction in the history of the race.
Smith said he kept busy on Arrogate in the stretch because he was afraid someone was coming, but no one was in shouting distance as Arrogate came to the wire in front of 48,630 spectators.
Sent off an 11-1 shot, Arrogate returned $25.40 and keyed a Baffert exacta that returned $134.50.
It was Baffert who picked out Arrogate at auction for Juddmonte, which three years ago retained him as their Southern California trainer following the death of Juddmonte's previous U.S. trainer Bobby Frankel several years earlier. Arrogate brought $560,000 as a yearling.
Rafael Bejarano had ridden Arrogate in his three previous victories, but he also had ridden American Freedom to a victory in the Iowa Derby and a runner-up finish in the Haskell Invitational. Bejarano said owner Gary West wanted him to ride American Freedom."I wanted to ride [Arrogate], but there was nothing I could do because the owner wanted me to ride that other horse," said Bejarano, adding that Arrogate "was much better than the other horses and he loved the distance."
Further Reading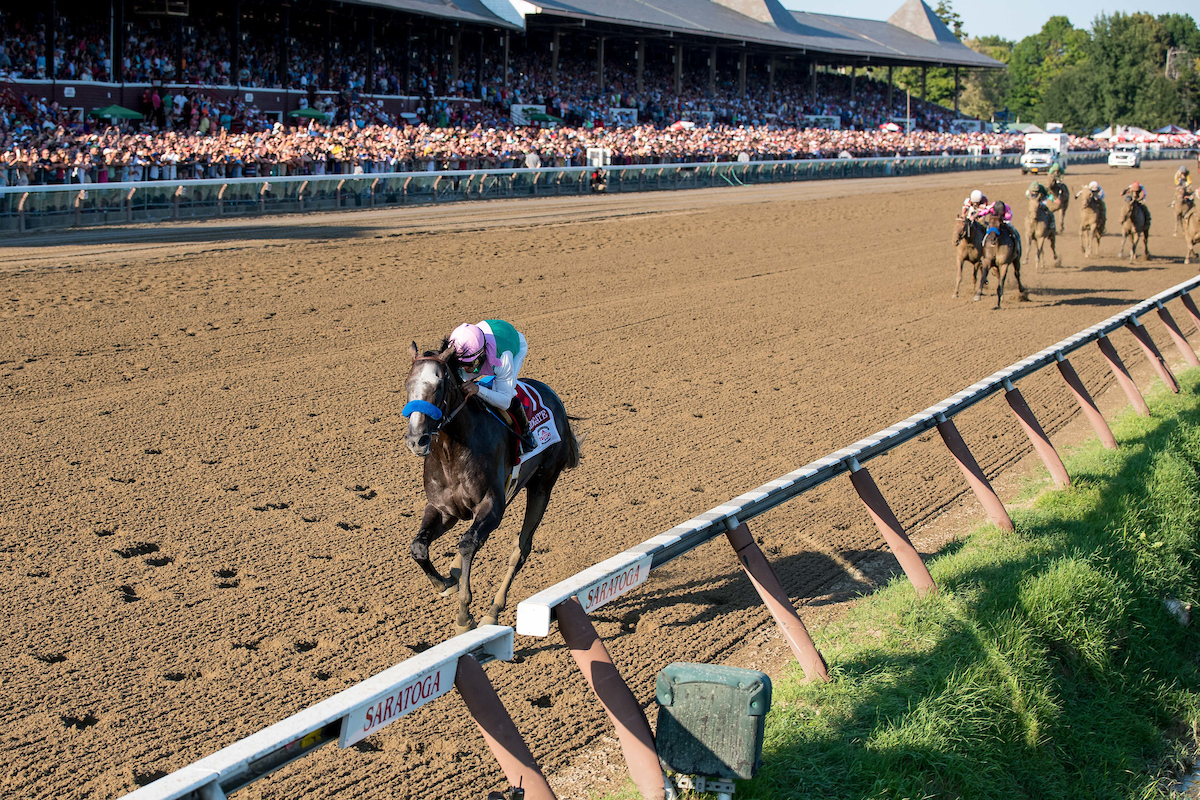 Arrogate - 2016 Travers Stakes